https://forums.unrealengine.com/development-discussion/vr-ar-development/1371458-make-maintain-framerate-technical-postmortem-for-robo-recall-and-beyond-by-nick-whiting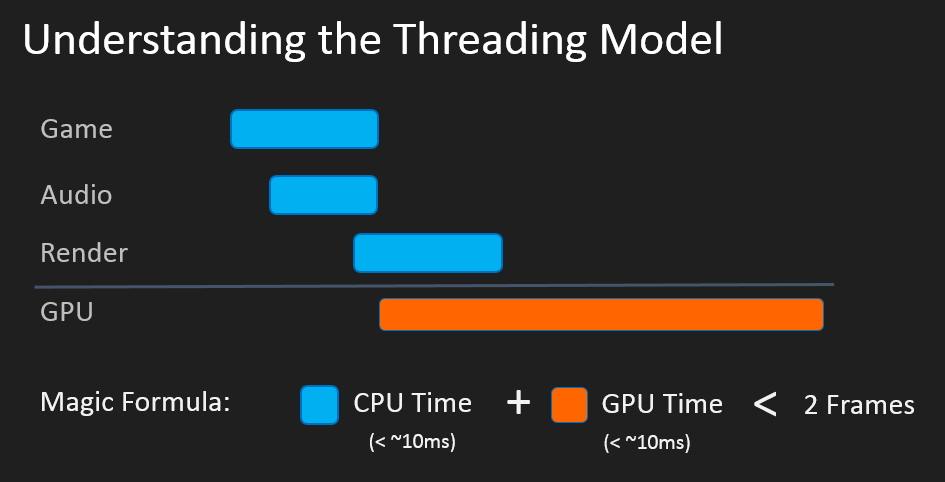 Ticking is not multithreaded#
The Game Thread handles updates for gameplay, animation, physics, networking, etc., and most importantly, Actor ticking.

TickGroups control Tick order but do not give parallelism

Physics use tasks within the game thread to perform their work

AnimGraphs can do parallel evaluation

Trick: Can hide some of your tick work by moving Actors to TG_DuringPhysics, shortening your overall Game thread time

Rule Of Thumb: Move things that don't affect velocity or position of Actors, or generate overlap events into TG_DuringPhysics.
A few of the heavier classes that we moved to TG_DuringPhysics in Robo Recall are:
OdinAIManager
OdinSpeechManager
OdinWaveSpawner
OdinPhysicalAudioComponent
OdinGameMode
OdinScoreManager
OdinPopulationManager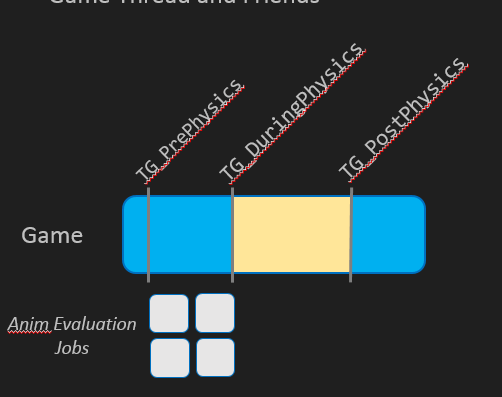 Render Thread:#
Handles command list generation

At top of thread, calculate final hmd pose

Then traverse scene and do parallel command generation
Audio Thread:#
The main audio thread is analogous to the Render Thread, and interfaces the game thread with the lower level mixing threads.

The decoding and source worker tasks decode the audio information, and also do processing like spatialization and HRTF.

The audio hardware thread is a platform dependent thread (e.g. XAudio2 on Windows), which consumes the mix.
Debug HMD Performance:#
-emulatestereo
r.setres 2160x1200
r.screenpercentage 140
'pause' - pauses game thread and then use 'show' command to profile rendering
Use stat physics & stat anim
Forward Renderer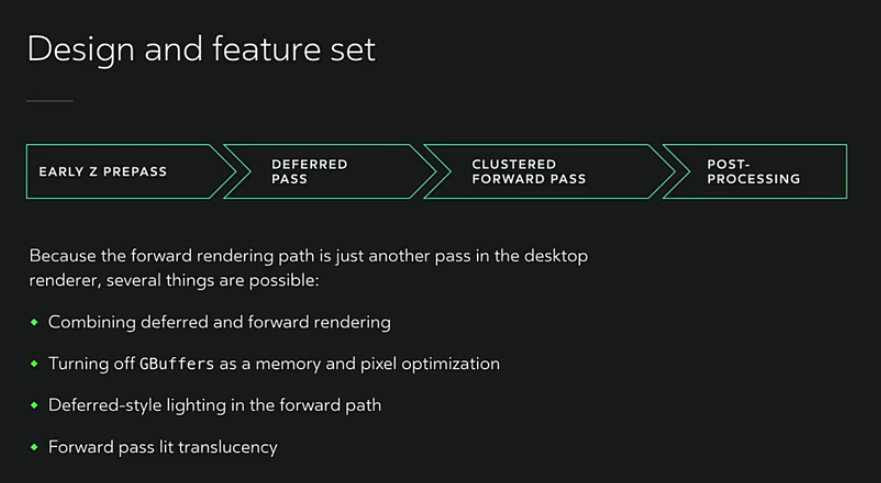 Can do 70%-90% scale down with MSAA 2x/4x
MSAA + subpixel geometry = bad juju
Specular aliasing is an issue
Give BP compiler hints on inlining functions. Look at KismetMathLibrary.h for details:
C++
// Conditionally inlined







#if KISMET_MATH_INLINE_ENABLED







#include

 

"KismetMathLibrary.inl"







#endif



Game Thread Optimization:
Reduce # ticking actors

Reduce # colliders

Hide work in TG_DuringPhysics

Check number of components in scene
---
Last update:
2023-03-05
Created:
2019-05-16